Ed Lamoureux is a singer/songwriter living in West Peoria, IL.
He has played in the duo RBEL with Rob Bertram.
RBEL featuresdLamoureux (guitar and vocals) and Bertram (bass) performing sets of (mostly) Ed's original songs.
Ed has played venues in Peoria, IL, including the Market on Moss, Red Barn, the Old Quarter at Kelleher's,
the Fieldhouse Bar and Grill, and The Frog Pond Art and Music Gallery.
Rob , for many years, played in a variety of bands at most of the important venues in Central Il.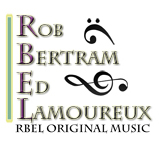 With notice, and ideas you send, Lamoureux will write and perform custom tunes for you.
Contact Ed Lamoureux: 672-5878 ell@bradley.edu


At the Old Quarters on the Peoria riverfront. Photo by Suzette Boulais

with John Kaizer and Ed Kaizer at the Red Barn, Peoria, IL.
Photo by Mike Vujovich

Originals: (audio files linked where available)
The New Book of Songs
At 60--Betrayed--Catch and Release--Come Back Blues--Crystal Wind--Done--Do You--Getting it Done--Gifts of Christmas--(Give Back) My Boyfriend's Shoes--Good Prospects for a Bad Outcome--I Did Not Want to Leave You--I'm Learning Still--In Each Other's Arms--Intermediate Incarnation--Is this Last Call--It's Clear, We're Here--It's Complicated--It's One Sure Thing--It Won't Play That Way (the Iron Duke)--The Last Set--Lighten the Hard Scars--Lights Went Out--Life in the Mirror--Loadstone--Marcel--Never Mind the Cost--Northwest Premiere--No Woman Like That--(the) Only Way to Go--Passages--Second Life, You Belong (Kathy Butrey, with additional lyrics, Lamoureux)--Sometimes we stood still but she never did--Special--Switch--Time and Again--That's How it Goes--The Real James Taylor--The Road Always Leads Back to You--The Weld that Holds--This Time Around--(Your Turn) To Dance Again--Unburdoned--Virtual Mystery--Virtuality--We're in the Clear--Whodunit?--Who's Your Daddy? That's me--You Make a Winner of Me--Young Danny Young--You've got a Braves' Number One--

--Music Videos:
--Road Leads Back to You
--You Make a Winner of Me
--Never Mind the Cost
--Ed, with the NMC jam band, at the Rock and Roll Hall of Fame, Cleveland, OH, 8-7-06

Covers:
A Better Place to Be--A Case of You--After the Gold Rush--Allison--All I want is You--Always Have to Steal My Kisses From You--A Love Song--Amazing--American Girl--American Pie--Amorena--Another Rainbow--And it Stoned Me--And She will be Loved--Angel Eyes--Anything Goes--At This Moment--Bad, bad, Leroy Brown--Beautiful Day--Bed of Lies--Believe in Yourself--Bird on the Wire--Brighter Days--Bubbly--Can't Buy me Love--Can't Help Falling in Love with You--Celebrate Me Home--Centerfield--Changes--Change the World--Chasing Cars--Christmas Song--Could You Believe?--Crazy little Thing Called Love--Crazy Love--Daniel--Danny's Song--Desperado--Diamond In Your Mind--Dock of the Bay--Do it or Die--Don't Let the Sun Catch You Crying--Don't Let the Sun Go Down On Me--Don't think Twice--Do you want to know a Secret?--Easy Tonight--End of the Innocence--Every Breath You Take--Everyday--Everyday I Write the Book--Everyday With You Girl--Fast Train--Father and Son--(don't lose the) Feeling that We Had--Feels Good at First--Feels Like Rain--Feels Like Tonight--Flesh Failures/Let the Sunshine--Flutter and Wow--Follow Me--Forever and Ever, Amen--For the First Time--Foxfire----Get Together/Eve of Destruction--Give me Wings--Giving Up--Good Enough--Good Lovin--Greatest Love of All--Gravity--Hand it Over--Handy Man--Happy Man--Hard to Say--Happy Man--Heart of Mine--Hearts Are Gonna Roll--Heart of Saturday Night--Here Comes Those Tears Again--Her Diamonds--Home--How Sweet It Is--How to Save a Life--House at Pooh Corner/Return to Poo Corner--House of the Rising Sun--If Love Can't Find a Way--If You're Gone--I Let a Song Go Out of My Heart--I'll Always Love You--I'm Gonna Find Another You--I'm in Love with a Girl--I'm Yours--In the Colors--I Think We're Alone Now--I Won't Back Down--Just Like Greta--Just The Way You Are--Keep it Loose, Keep it tight--Lady of my Heart--LA Freeway--Last Beautiful Girl--Last Kiss--Last Request--Leader of the Band--Leave--Let Her Cry--Let Them Talk--Lie to Me--Like a Bird on the Wire--Listen to a Country Song--Long Tail Cat--Lonesome Tears--Lonesome Town--Long Way Home--Love Don't Play By Rules--Love Has No Pride--Loveland--Lover's Cross--Love the One You're With--Mama Knows the Highway--Margaritaville--Marry Me--Maybe--Maybe Baby--Midnight Special--Moon and St. Christopher-Moon is Made of Gold--Moving in the Same Circles--My Back Pages--Never been to Spain--New Biography--New Shoes--Nick of Time--Night Moves--No Hurry--Nobody Knows--Nobody Knows you when you're Down and Out--No Woman, No Cry--Oh Baby, we got a Good Thing Going--Oh Boy--Oh Chariot--Oh Donna--Old Fashioned Love--Old Folks--One Less Set of Footsteps--Only the Good Die Young--Only You--Oregon Hill--Out Loud--Over the Rainbow/Wonderful World--Pass it Around--Peggy Sue/Peggy Sue got Married-People Gotta Be Free--Philosopher's Stone--Place in the Sun--Please Call Me Baby--Please Forgive Me--Precious Time/Brown Eyed Girl--Pretender--Quitten Time--Rave On--Return To Pooh Corner--Right By Your Side--Rock and Roll Mood--Rock of Ages--Romeo and Juliet--Route 66--Runaround Sue--Sail On--San Francisco Bay Blues--Satisfied Mind--Save it For a Rainy Day--Save me San Francisco--Sea of Love--She's come Undone--She's Out of my Life--Shower the People--Side by Side--Slide--Sink or Swim--Smile on your brother/Eve of Destruction--Somewhere--Stand by Me--Stay Forever--Stay with You--Sunny--Strange but True--Stuck in Mobile with the Memphis Blues-- Suicide is Painless--Sunshine (Go Away Today)--Take me out to the Ballgame--Takes my Breath Away--Talking Old Soldiers--Tangled--Taxi--That'll be The Day--That's Why I'm Here--The Guy That Says Goodbye--The Weight--3 AM--Thank God for You--The Way that you Wander__These Dreams of You-These Shoes--The Way that You Wonder--Through Your Hands--Time is on my Side--Today--Travelin Blues--True Colors--Tupelo Honey--Two Out of Three Ain't Bad--You Are the Best Thing--Unanswered Prayers--Up On The Roof--Vincent--Viva La Vida--Wait for Me--Waiting on an Angel--Waiting on the World to Change--Walking in Memphis--Watching the River Run--What am I to You--When the deal goes down--Wind Cries Mary--You are So Beautiful--You are the Best Thing--You got it--Your Song--You're the World To Me--You're My First, My Last, My everything--You've Got a Friend--Wasted Time--Weeping--We Gotta Get You A Woman--Welcome Back--What's So Funny `Bout Peace, Love, and Understanding--When I Get Too Old to Dream--Women Be Wise.



The Professor was a singer/songwriter who played inworld from March, 2007 through April, 2012, featuring a mix of covers and original material. His playlist reached nearly 200 songs including over 40 original tunes. The Professor is a sucker for a strong melody and great lyrics. His favorite professional artists include James Taylor, Kenny Loggins, Norah Jones, Dixie Chicks, Indigo Girls, Van Morrison, Bob Dylan, and Paul Simon (although as a listener, he also enjoys jazz and other popular music forms). His inworld group was called "the Professor's Posse." The Professor played many of the major venues in SL: Edloe Clocktower, Dublin (Blarney Stone & Fibbers), Glass Slipper, The Point, the Globe, Del Boca, Cuddler's Cove, Nitida Ridge, Pranksters, Nancy Blake's, Gardenstock, Summer of Love, Juel's Living Room, the Dancing Tree, Piers' Paradise, the Ragged Edge, Guthries, Virtual Music Services, Songbirds, etc. The Professor no longer plays shows in SL as Ed no longer maintains an SL account.

In Second Life® Ed Lamoureux was Professor Beliveau. He taught about virtual worlds via field research and entrepreneurship for Bradley University and performs as "The Professor." Lamoureux also paints watercolors and exhibited and sold art in Second Life galleries.

Some press about those virtual experiences:
Professor Avatar, Andrea Foster, Chronicle of Higher Education, 9/21/07
He's Virtually Famous, Peoria Journal Star, 10/25/07
Field Research and Songs, Interbusiness Issues, 5/09
Archive of Lamoureux's virtual world stuff
© 2013, 2014, 2015, 2016, 2017, 2021, 2022, 2023 Ed Lamoureux
BMI & SoundExchange registrations for originals, on file.